Organized by:

Bundesverband Deutsche Startups e.V. (German Startups Association) is the representative and voice of startups in Germany. Its mission is to connect founders, startups, and investors with each other to create a broad network. By fostering these relationships, the GSA builds bridges between global startup hubs, nations and continents. As of November 2014, the GSA has 400 members including startups, student entrepreneurship initiatives and major corporations.

Entrepreneurs Club Berlin e.V. is a non-profit organization built by the community, for the community. By providing the necessary platform and resources to promote collaborative learning and a positive business image, the ECB works to foster a vibrant entrepreneurial culture in Berlin.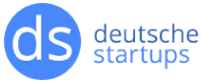 deustche-startups.de supplies up to date information and highlights news about the German internet startup and venture capital scene on a daily basis. Interviews, portraits of individual startups and founders, as well as market census data on interesting segments complete the wealth of deutsche startup's daily news reports.